Coach Weider's @Go_Rout Coaches Notebook: My weekly awards in a action packed week 2 of High School Football
Pat Weider | September 6, 2022
Visit GoRout
 get the most out of your practices!
For week 2 out in Columbus for Ohio States win over Notre Dame, but I followed all the games and got a bunch of news and notes from week 2. 
Player of the Week: Logan Lentz of Elizabethtown. Elizabethtown is 2-0 on the year and is led by running back Logan Lentz. He rushed for 270 yards and 3 Touchdowns in their win over J.P. McCaskey. Elizabethtown is a scoring machine 43 and 50 points the first 2 weeks of the year. 
Team of the Week: Hempfield. Hempfield beat York High with a late touchdown pass from Jackson Landis to Micah Gates to pull off a stunner. Hempfield is now 2-0 on the year with both wins against YAIAA teams. They get to try to complete the trifecta next week when they host Central York. Great work by the black nights. 
**** I be covering Hempfield vs. Central York on Friday night. I am really excited for this game. 
Coach of the Week: Kris Miller of Ephrata. Last year Ephrata ended the season on 3 game losing streak. Coach Miller told me the goal is they finish all games this year. Week 1 they lost to Red Lion in a back and forth game. On Friday against rival Warwick they outscored them 16-0 in the 2nd half and beat them 29-21. The first time they beat their rivals in 15 years. Congrats to Coach Miller and his team. 
Play of the Week: Zone Blitz. One of themes of high school football is to provide pressure with blitzes. One of the best ways to do this is to slant your Nose Tackle one direction and have the backer blitz the other gap. Here is an example below.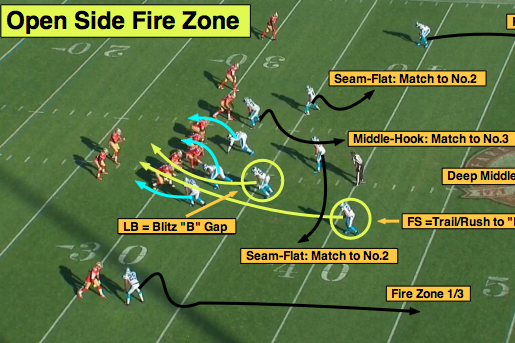 Family of the Week: Dave Hahn is the Head Coach at Manheim Central. This year he is a father and a coach on Friday night with his son Zac Hahn starting at QB for Manheim Central. On Friday night they played a back and forth game against New Jersey power house Immaculata Catholic. They prevailed 44-43 to improve to 2-0 on the year. 
Football has 4 downs, so here are 4 thoughts from what I saw, watched, and heard this week:
1) Lancaster Lebanon League 2-0 teams: Cedar Crest, Hempfield, Manheim Central, Exeter, Elizabethtown, Garden Spot, Solanco, Elco, Wyomissing, Columbia, Lancaster Catholic and Hamburg. 
2) YAIAA League 2-0 teams: Spring Grove, South Western, Red Lion, and New Oxford. 
3) Congratulations to Reading Head Coach Troy Godinet on his 1st win as a head coach Friday night. Reading beat Muhlenberg 40-10 on Friday night. Reading looks like a very improved this year under Coach Godinet. 
4) York High fell again with a heart breaking lose Friday night against Hempfield. They could easily be 2-0, but are now 0-2. It does not get easier Friday night when they play Carlisle who is 2-0 on the year. Also York High does not have week 6 opponent, so if they would lose Friday night it will really put them in a bind to make a playoff run. 
Follow PA Football News on Twitter @PaFootballNews